For a country with only 35 million residents, Canada certainly produces its fair share of ultra-wealthy families, with nearly 90 worth over $1B. Names like Thomson, Saputo, Coutu, Sobey, Stronach and Bombardier are familiar to many. But most of these wealthy Canadians are confined to a handful of the most populous provinces and to a narrow set of industries, like media, grocery, oil and finance. But what about, say, Prince Edward Island — how do ambitious businesspeople generate wealth in the pocket-sized province known primarily for fishing and tourism? Or the Yukon Territory, known most for its mining but also a relative powerhouse in manufacturing and hydroelectricity?
We decided to investigate where the wealth lies in each region of Canada. What follows is a list of the richest Canadians (individual or family) residing in each of the country's provinces and territories. In some cases, where a single determination is difficult to make (as much of the wealth is locked up in private enterprises), we present a collection of the wealthiest residents. In Nunavut, where most of the funding arrives from federal sources and non-resident companies own most large assets, a selection was not made.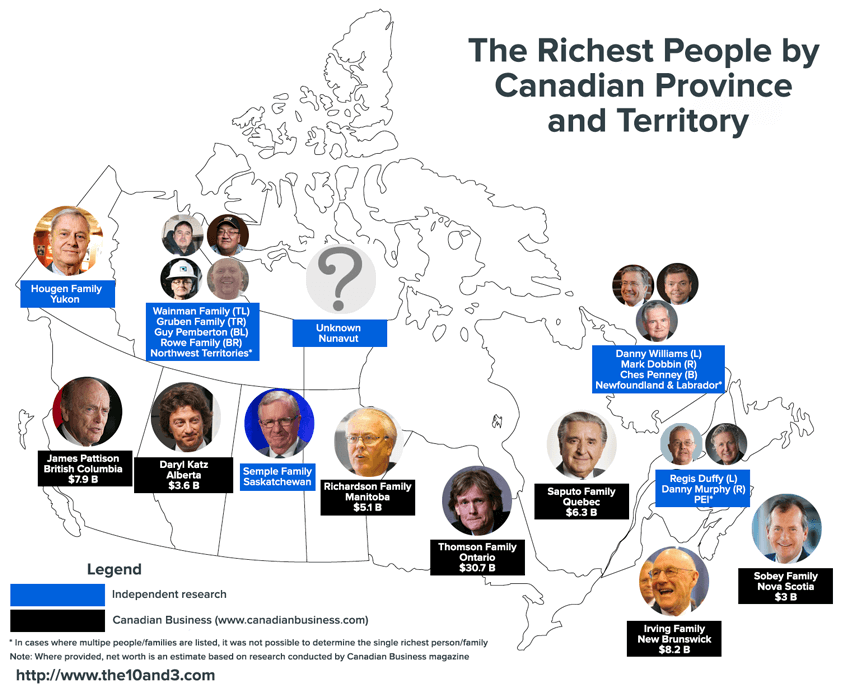 The Provinces
Alberta
Canadian sports fans know Daryl Katz as the billionaire owner of the bottom-dwelling Edmonton Oilers, who haven't come close to making the playoffs since Katz took over the reins of the team in 2008. Though Oilers fans have resolved themselves to a team in perpetual rebuilding mode, the success of Katz's non-hockey businesses have propelled him to be the 13th richest Canadian, and the wealthiest in Alberta. His empire of pharmacies, which include chains like Rexall and Pharma Plus, number over 1800 and stretch over most of Canada and some of the United States. The Rexall brand lends its name to the Oilers' home arena in Edmonton and to York University's giant tennis stadium in Toronto. Despite the team's losing ways, Oilers fans can at least now look forward to Katz's vision of a revitalized Edmonton Arena District sprouting up downtown.
British Columbia
Vancouver investor Jim Pattison may very well have the most motley collection of assets among the rarefied set of Canada's billionaires. His aptly named Jim Pattison Group (which as of 2013 was the largest privately held company in Canada) oversees subsidiaries both weird and wonderful: novelty publications and museums (the Guinness Book of World Records and Ripley's Believe it or Not! franchise), illuminated sign businesses (Pattison Sign Group), car dealerships (all under the friendly Jim Pattison brand), bodyshops, packaging groups (Genpak), a giant coal export terminal, and a network of radio stations stretching from BC to Manitoba. The Saskatoon-born Pattison is the sole owner of this private empire, but his son, also Jim Pattison, is ready to step into his father's shoes when necessary (with no company name change necessary).
Manitoba
Most travelers flying in on a chilly morning to Winnipeg's James Armstrong Richardson International are likely not familiar with the airport's namesake. But the man himself, and the sprawling (and extraordinarily wealthy) Richardson clan, are a deep part of the economic, political and educational fabric of Canada. James Armstrong Richardson's grandfather arrived in Kingston, Ontario from northern Ireland in the 1820s and promptly began a successful tailor business. Forced to take payment in grain rather than cash, it was a natural step to enter the grain industry, and the agricultural empire known as James Richardson and Sons (later based in Winnipeg) was born.
James Armstrong Richardson is likely known more for his role in aviation than with the family business, having founded Western Canadian Airways, which for a time in the late 1920s was the second largest airline in the entire British Empire. The achievements of other members of the Richardson family are equally fascinating. His brother, George, was a well-known hockey executive who was inducted into the Hockey Hall of Fame many decades after his untimely death in World War I. Son James was a cabinet minister for Pierre Trudeau, while daughter Agnes served as the first female chancellor of Queen's University. Son George and then grandson Hartley (current CEO) led the company's expansion through the latter half of the 20th century into oil and gas exploration, financial services and property management, all the while maintaining the massive private company in the family's hands.
New Brunswick
For a long time, the Irving family managed to fly under the radar while gradually becoming one of the most powerful — and wealthiest — families in all of North America. They're in oil. Shipbuilding. Media. Pulp and paper. You name it. They're the largest landowner in the US state of Maine, and the fifth largest private landowner in all of the United States. But most Canadians, and Americans, have hardly heard of them.
Recently, the (relative) veil of secrecy has started to lift. As it turns out, the family's business has involved more drama, backstabbing and feuding than an entire season of Downton Abbey. Descendants of scion K.C. Irving have split off into factions, and the new tell-all Irving vs Irving aims to unearth this clan's dirty laundry for all to see.
Newfoundland and Labrador
Outside of Newfoundland, Danny Williams may be best known as the premier who traveled to the United States for a specialized heart operation, triggering a wave of angst over his implicit criticism of the Canadian healthcare system. Inside the province, however, the Rhodes scholar-turned-lawyer-turned-politician has been something of a folk hero to many (though not all). By the early 2000s, Williams had already earned the nickname "Danny Millions," for his successful law career and $225M sale of Cable Atlantic (of which he was the primary shareholder). Premier between 2003 and 2010, Williams' term is remembered for tangles with Prime Minister Stephen Harper over offshore oil royalties (Williams won that fight). These days, Williams splits his time between CEO duties for the St. John's IceCaps, and developing the sprawling Galway Development in St. John's, which some analysts now value at over $5B (he's said to have bought the land for a just a few million in the 1990s).
The Dobbin family is one of Newfoundland's most storied business clans. Patriarch Craig founded CHC Helicopters, at one time the largest helicopter operator in the world. Of his five children, son Mark most vigorously kept the entrepreneurial spirit going, first leading CHC Helicopters in the years after Craig's death, then using the fortune to found Killick Capital, a private equity group focusing on aerospace, and becoming a venture capital investor in numerous businesses in Atlantic Canada. And, it turns out, he tweets a lot about St. John's.
With a relatively low profile, Ches Penney has perhaps become Newfoundland's most powerful businessperson. His Penney Group of companies dabbles in everything from construction (Pennecon), automotive dealerships, commercial properties, and even fishing rights and processing facilities in Newfoundland's infamously overfished waters.
Nova Scotia
What began with J.W. Sobey as a door-to-door meat delivery business in 1907 in the town of Stellarton, Nova Scotia has exploded into the second biggest grocery company in the entire country. After first dominating Atlantic Canada with the Sobeys chain, the family business marched west through Canada beginning in the 1980s, swallowing up more and more stores as it went. Their grocery empire now includes Foodland, FreshCo (Price Chopper), Thrifty Foods, IGA, and more recently, Safeway Canada.
Frank Sobey, who first convinced dad J.W. to expand his butcher business to a full service grocery store, is credited with driving the initial massive expansion of the company until his death in 1985. Along the way, he also picked up the Empire Theatre chain (which was sold in pieces to Cineplex and Landmark in 2013) as well as the Atlantic Shopping Centres properties (later Crombie REIT). These days, although Sobeys' parent company Empire is publicly traded, its board of directors is populated by a who's who of the Sobey family tree, including Frank's sons Donald and David, and grandsons Paul, Rob, Karl and Frank.
Ontario
No surprise here. The Thomson family, majority owners of the media conglomerate Thomson Reuters, are the richest family in Canada by a huge margin, with a wealth estimated at over $30B. Current patriarch David, grandson of Roy (namesake of Toronto's grand Roy Thomson Hall, to which the family donated significant rebuilding funds), is a relative spring chicken at just 57 years old. With all of that petty cash sitting around, the Thomson family has made a few fun investments that are likely out of reach for most Canadians, including owning a piece of the Winnipeg Jets and their arena the MTS Centre, as well as paying the highest price ever for an Old Master painting: over $100M for Peter Paul Rubens' Massacre of the Innocents.
In (a very distant) second place is the Weston family, overseers of the Loblaws grocery empire. They're doing alright too, with just over $11B in assets.
Prince Edward Island
In 1980, a bold, 25-year old Islander named Danny Murphy raised enough money from family and his own savings to purchase PEI's first two Tim Horton's franchises. Since then, the Murphys have taken over the province's hospitality industry, with an obvious focus on doughnuts, bagels and coffee. Danny himself owns no fewer than 20 Tim Hortons restaurants (including all locations in PEI), 10 Wendy's, numerous hotels and a Leon's Furniture store; brothers Kevin, D'Arcy, Stephen and Joe own another 45 restaurants between them throughout Atlantic Canada, Quebec and Ontario (including over 30 Tim Hortons). And if that wasn't enough, Danny also married into a Tim Hortons franchise family — wife Martie owns the two most popular Timmy's locations in all of Canada, out west in Fort McMurray, Alberta.
Regis Duffy is perhaps no less wealthy an Islander than Danny Murphy, but took a far different — and far more scientific — route to get there. As a dean and chemistry professor at the University of Prince Edward Island, Duffy founded Diagnostic Chemicals Limited (DCL) in 1970. By the early 2000s, with DCL operating 5 manufacturing facilities in the Maritimes, Duffy cashed out, and the biochemical division was renamed BioVectra DCL, which quickly become a bioscience powerhouse in Eastern Canada. Today, though Duffy remains an emeritus member of BioVectra's management team, his primary focus is on bioscience investment and philanthropy in the region.
Quebec
The Saputo cheese empire had its humble beginnings in Sicily, where young Lino — the future billionaire founder and chairman of Canadian behemoth Saputo, Inc. — helped deliver his father Giuseppe's specialty mozzarella to local clients. After immigrating to Montreal in the 1950s and officially starting their eponymous cheese business, the family saw the burgeoning pizza craze as a can't-miss opportunity, and soon cornered the explosive mozzarella market. Through a series of acquisitions beginning in the 1990s, the company has consolidated itself as the world's eighth largest dairy producer. They now oversee iconic Canadian brands like Dairyland and Vachon (maker of the Jos. Louis), Wisconsin names like Black Creek and Great Midwest, and even Australia's oldest dairy producer Warrnambool Cheese and Buttery Factory. While older son Lino Jr. now steers the Saputo Inc. empire as CEO, younger son Joey probably has a bit more fun as the owner of the Montreal Impact MLS soccer team and their Saputo Stadium, as well as Italian club Bologna.
Saskatchewan
Not even a decade ago, the most talked-about person from Saskatchewan was Calvin Ayre, founder of online gambling mecca Bodog. He appeared on the cover of Forbes' 2006 billionaires issue, and was among Star Magazine's "Most Eligible Billionaire Bachelors" in 2007. But since then, the playboy with the jetsetting lifestyle has gone into a downward spiral, and so too has his wealth. Indicted in 2012 by US prosecutors for running an illegal sports betting business, Ayre is still on the run, and maintains a comfortable spot on US Immigration and Customs Enforcement's Most Wanted List.
These days, it is the Semple family, owners of the Brandt Group — the largest privately held company in Saskatchewan — who garner the headlines. The Semples made their fortune as dealers of heavy industrial and agricultural equipment, but to locals in Regina, they are perhaps better known for being part-owners of the Regina Pats, and for their ostentatious mansion just outside the city limits on Route 6. It's become something of a parlour game to dig up and trade photos of what is certainly the most garish property in the entire province.
The Territories
Northwest Territories
The Northwest Territories is vast and sparsely populated, but contains a bounty of strategically important resources and waterways. Much of the Northwest Territories' cash comes from federally funded infrastructure projects whose goals are to connect the people and resources of the north with the rest of Canada. As such, the biggest moneymaking industries in NWT are construction, as well as services (hotels, food, entertainment) that help support those employed in the building projects. The Rowe, Gruben, Wainman and Pemberton families are the wealthiest in the Territories.
The Rowe family of Hay River specializes in heavy machinery operations, and supplements their wealth with property management and hotel assets.
The Gruben family, based in Tuktoyaktuk and founders of construction giant E. Gruben Transport (EGT), are known as one of the largest contracting and logistical companies in the Arctic. Northwind Industries, owned by the Wainman family and based in Inuvialuit, recently joined with EGT to win a massive $229M contract to build the Inuvik-Tuktoyaktuk all-weather highway. To protect the permafrost, construction of the highway is limited to winter months, which in fairness is basically most of the year.
Guy Pemberton rode a wave of success with Tuktoyaktuk-based Dowland Construction only to see it go under. It's said that he recently bought up the assets of Dowland in a fire sale, and his company is now under contract to rebuild Inuvik's famous "utilidors" — a city-wide network of pipes carrying water and sewage that sit above ground to avoid the damaging permafrost below.
Yukon Territory
Rolf Hougen, patriarch of the sprawling Hougen family of the Yukon and head of the Hougen Group of Companies, is perhaps the most admired businessperson in the Territory, recognized as someone who cared deeply about the community he worked in (and made plenty of money in). At one time, Hougen stores were the largest retailers in all of the Yukon, before the nationals (like Canadian Tire) and multinationals (like Walmart) arrived. Now, much of the company's wealth resides in the extensive real estate holdings throughout Whitehorse and the Territory.
In 1958, Hougen stepped into broadcasting by starting the Northern Television Company. With the television industry threatened by the emergence of satellites in the 1960s, Hougen boldly proposed the idea of cable companies bundling satellite signals together to sell as a package consumers. Along with several partners from across Canada, he formed CanCom, which later became the Canadian broadcast behemoth Shaw.
Nunavut
In Nunavut (pop. 32000), where most of the funding for infrastructure and development arrives from federal sources and non-resident companies own most large assets, a selection was not made.
Follow us on Facebook or Twitter for more stories and analysis.