Canada has always had a bit of a complicated relationship with the film industry. After all, it's tough when so many of our biggest talents flee south to Hollywood at the first inkling of success. The exodus began with Hollywood starlets like Mary Pickford and Norma Shearer in the 1920s, and has continued unabated ever since, with some of today's most bankable stars like Rachel McAdams, Ryan Gosling and Jim Carrey, and directors like James Cameron, Paul Haggis and Brad Peyton, making their way down to Los Angeles for good. Canadians have tended to look on with delight at the achievements of their countrymen, but also with a wounded pride that these talented folks had to leave in the first place.
But beyond that great migration south, the Canadian film industry — comprising movies produced in Canada and made primarily by Canadians — is remarkably strong, and in many ways, has never been stronger. There are the great Canadian auteurs like David Cronenberg, Atom Egoyan and Denys Arcand, wildly talented youngsters like Xavier Dolan and Sarah Polley, and weird and wonderful masters like Guy Maddin that we are proud to call our own.
We set out to identify the best Canadian movies ever made. But rather than seeking out the opinions of pundits and professional critics, we wanted to see what Canadian movies people actually love to watch. So we looked to IMDB, which collects movie ratings from regular people – anyone can create an account on the site and submit their ratings – as our golden data source. Now remember, a high rating on IMDB means that it's a film that moviegoers love, and not necessarily that the film is a pinnacle of the craft, though it bears noting that these often coincide.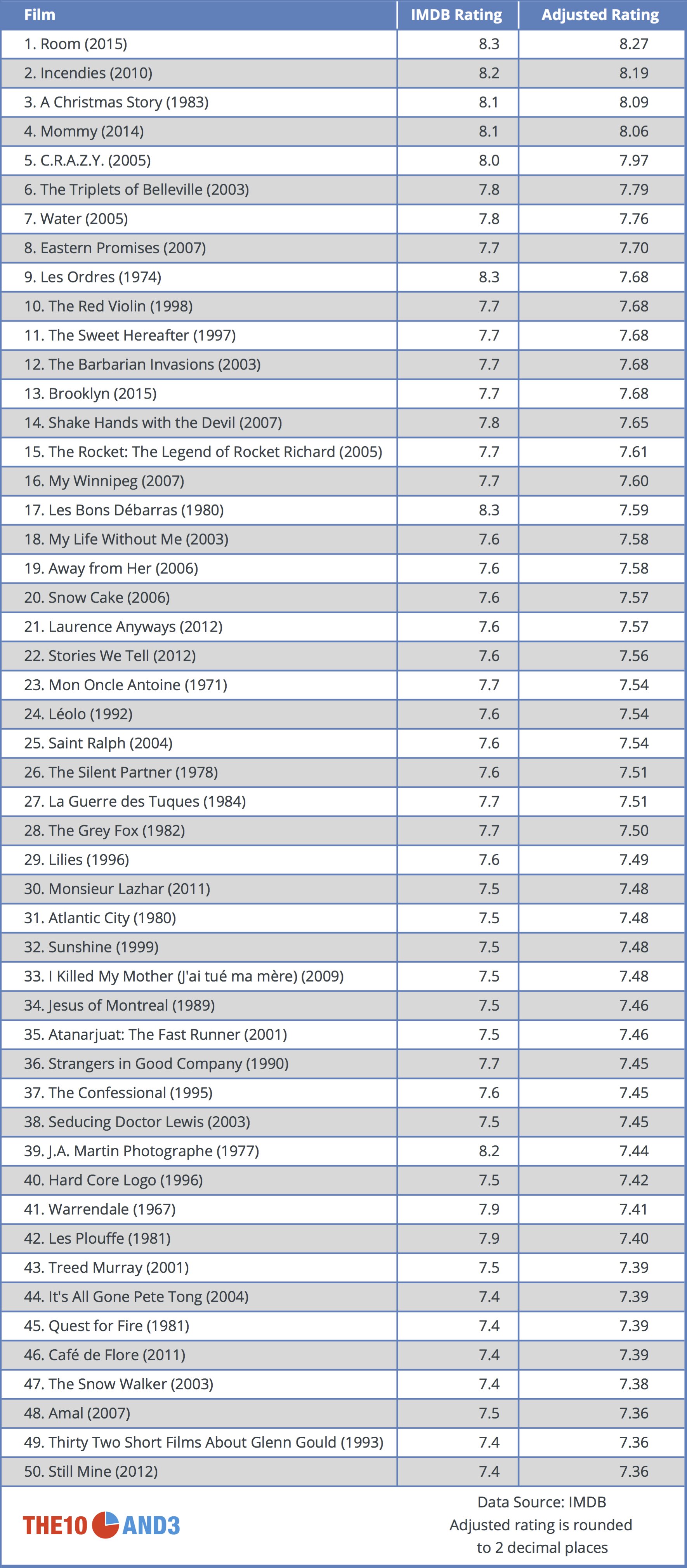 You might be asking, at this point, what exactly constitutes a Canadian movie, anyway? Does it matter if the director is Canadian? Or the stars, or the writers, or the cinematographer? Does the film have to be shot in Canada? We decided not to wade through these sticky questions, and instead deferred to the Academy of Canadian Cinema and Television which runs the Genie Awards (the Canadian version of the Oscars), now called the Canadian Screen Awards. If a feature-length movie was nominated for some category in the Canadian Academy's awards since their inception in 1949, we included it in our list. Finally, to make sure that little-seen movies with a few high ratings don't pollute our rankings, we employed a similar procedure to IMDB called Bayesian ratings in order to generate more accurate "adjusted" ratings. See the Methodology section for details.
What is most striking about this ranking – and how it contrasts with typical critics' lists like those released by the Toronto International Film Festival – is just how much everyday viewers are drawn toward Canada's newest generation of films produced over the last 15 years. Importantly, we know this isn't simply some "newness" bias inherent in IMDB's rating system or audience, as the site's list of the Top 250 films of all time skews much more aggressively toward classic fare.
The young 20-something bad boy of Montreal cinema Xavier Dolan, who most recently directed Adele's Hello music video, is represented a remarkable three times in the top 50 (Mommy, Laurence Anyways, I Killed My Mother), and continues to light up Hollywood with a pipeline of ambitious, innovative projects. Several of his contemporary Quebecois filmmakers are no less talented: Denis Villeneuve, whose masterful mystery Incendies comes in as the second most favourite Canadidan film, has been tapped to helm the Blade Runner sequel (sadly, an American production), while Jean-Marc Valleé, who is now perhaps most famous for directing The Dallas Buyer's Club and Wild, pitches in two films to the top 50, the family-driven dramas C.R.A.Z.Y and Café de Flore.  
But perhaps nothing says that Canadian cinema has really made it better than the one-two punch of Room – which tops the list for viewers' all time favourite Canadian film – and Brooklyn. Both movies are Irish-Canadian co-productions, and remarkably, both sleeper hits are nominated for Best Picture in the 2016 Academy Awards. While neither film features a Canadian director, both casts feature strong Canadian content, including the remarkable young star of Room, Vancouverite Jacob Tremblay.
But lest you think viewers care only about what's new and hot, we are happy to report that people do still love the classics. A Christmas Story, that definitive American holiday film which, confusingly, is also technically a Canadian film (it was shot in various locations throughout Ontario and received the Genie Award for Best Direction in 1985), clocks in as the third most loved movie. Important keystones in Canadian culture like Les Ordres – which tells the story of the 1970 October crisis – and Mon Oncle Antoine – considered one of the masterworks of 20th century Canadian filmmaking – join other classic films on the list like Egoyan's The Sweet Hereafter, Arcand's Jesus of Montreal, and Mankiewicz's Les Bons Débarras.
Finally, a quick nod to those films that didn't quite make the top 50. Raunch comedies Meatballs and Porky's may be branded upon the brains of Generation Xers, but their IMDB ratings are simply not high enough to make the cut. Same goes for you Cronenberg fans out there; while Eastern Promises cracks the top 10, cult favourites like Videodrome, Dead Ringers, eXistenZ and Scanners don't quite have the fan support and crash out of contention. Some other notable films that you might be missing: Exotica, Being Julia and The Decline of the American Empire.
Methodology
IMDB data was gathered at the end of January 2016 for each feature-length film nominated for a Genie Award, beginning in 1949 – when they were called the Canadian Film Awards – through 2016 – where they are now referred to as the Canadian Screen Awards.
The adjusted ratings were computed according to the following standard Bayes' rating formula, which is also employed by IMDB when constructing their top lists:
adjusted rating = (v/(v+m))R+(m/(v+m))C,   where
R = average IMDB rating for the film
v= the number of IMDB ratings that the film received
m = parameter that effectively downweights films with very few ratings (in our case m = 1000)
C = average rating across all films in our ranking.
The purpose of the adjusted ratings is to make sure that highly rated but little-seen films don't get an inflated ranking. This is why, for instance, a film like Les Ordres with an IMDB rating of 8.3 does not appear higher. It has fewer than 800 ratings on IMDB, while a film like Eastern Promises – which ranks ahead but only has an IMDB rating of 7.7 – has over 180K votes. We are much more confident in the rating of the latter than of the former.
A final note about what sorts of films the IMDB ratings tend to favour: the ratings reflect viewers' preferences for films, and not those of critics. However, these are often not mutually exclusive concepts. For instance, a quick glance at IMDB's top 250 reveals accessible masterpieces like The Godfather and Raging Bull intermingling with pure fan favourites like Die Hard and The Dark Knight.
Don't miss our newest stories! Follow The 10 and 3 on Facebook or Twitter for the latest news and analysis.