The Canadian Olympic team took in a record medal haul this year in PyeongChang, bringing home 29 medals in sports such as freestyle skiing, short track speed skating and figure skating. But it was a handful of high-profile Canadian athletes whose medal-winning performances rocketed them to superstardom around the country, and on social media. With an athlete's marketing power increasingly measured by their social media influencer status, it was Canada's brightest figure skating stars, as well as a few of their friends on the snow, who benefited the most from their Olympic success.
To see which athletes raised their profile the most, we looked at the Twitter follower count of every Canadian Olympic medal hopeful just before the Games, on February 8, and just after, on February 26.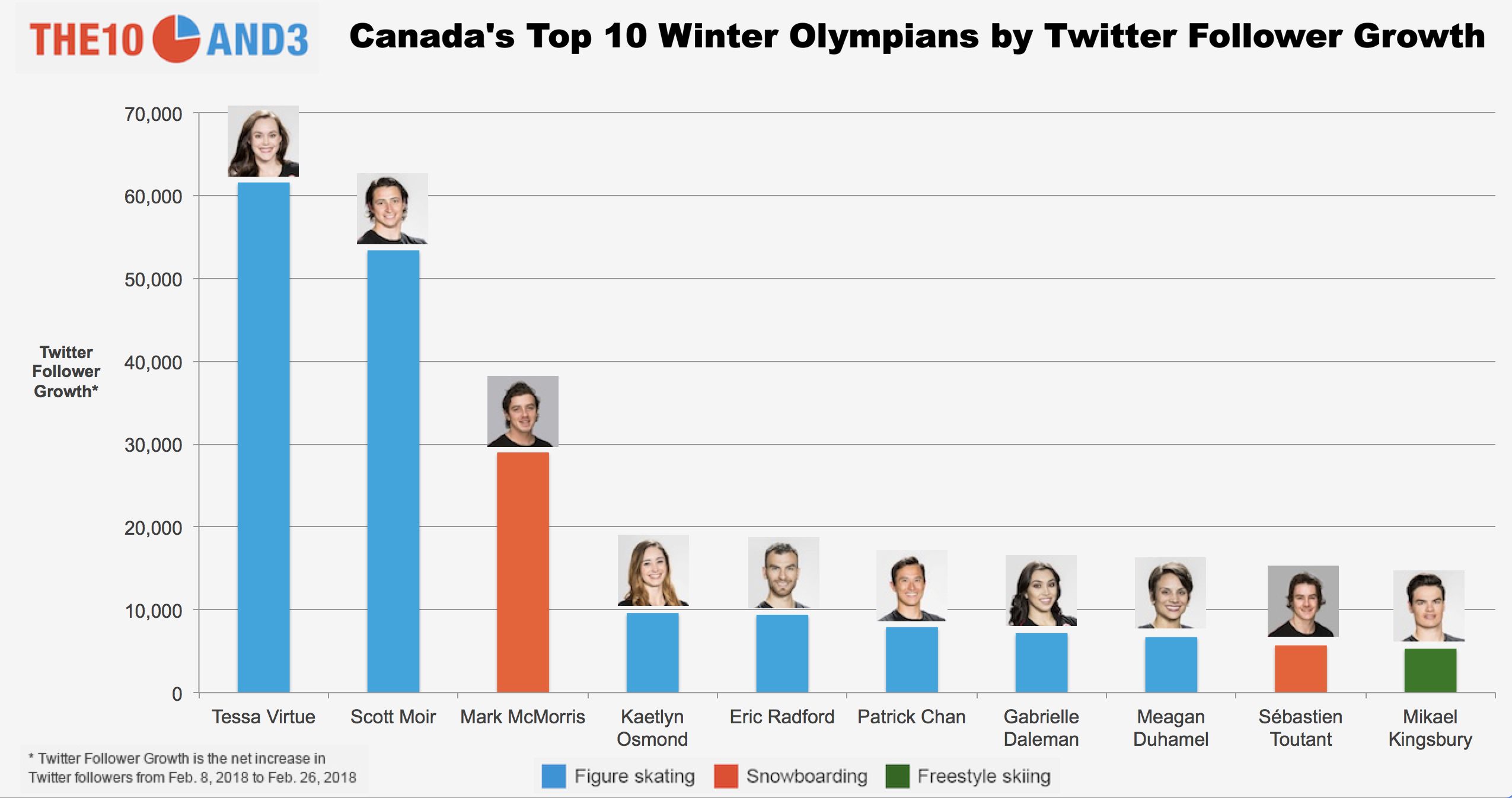 Canada's figure skating team, with its medals in the team, ice dance, pairs and women's competitions, dominated the Olympics. But they also dominated the social media game, with gold medalist ice dancers Tessa Virtue and Scott Moir increasing their follower count by well over 50,000, and fellow team members Eric Radford and Meagan Duhamel (pairs bronze), Kaetlyn Osmond (women's bronze), Patrick Chan and Gabrielle Daleman increasing their counts by over 5,000 followers.
What is it about figure skaters and social media? First, all of the figure skaters in the top 10 won the team medal at the outset of the Olympic Games when viewer engagement was still high, resulting in significant television exposure in Canada. Moreover, figure skating coverage, unlike coverage of  full-helmeted winter sports like bobsled, snowboard or even hockey, tends to focus on athletes' faces and personalities, while the extensive kiss-and-cry scenes after each performance further highlight individual performers.
But Tessa and Scott are no doubt a special case, even among the figure skaters. They were Canada's flag bearers at the Opening Ceremonies, and their story of redemption after just missing out on gold in Sochi was an irresistible marketing story. Add in the wall-to-wall coverage on both Canadian and American TV of both their skating performances and their are-they-or-aren't-they dating drama, and you have natural recipe for social media success.
Of all Canada's Olympic athletes, snowboarding star Mark McMorris began the Olympics with the most Twitter followers, at 171,000. Despite missing the top of the podium, McMorris' bronze in slopestyle just 11 months after a near fatal injury was enough to propel his Twitter follower count upward by almost 30,000. (His sponsorship deal with Visa didn't hurt either). Patrick Chan was initially second in the count with 81,000 followers; despite a relatively disappointing final Olympic Games that saw him miss the podium in the men's competition, Chan still managed to bump his count by 8,000 followers.
Finally, we remark that gold medals alone don't necessarily mean a big increase in social media following. Sebastien Toutant, who soared his way into history with a gold medal in the inaugural Big Air snowboarding event, added a measly 5,600 followers; unlike teammate McMorris, a medal means less in the follower competition without a compelling backstory (nevertheless, Toutant is already a moderate social media star due to his success on the X-Games circuit). Sam Girard, who won gold in 1,000m short track speed skating, gained just over 1200 new followers; gold and silver medalist Ted-Jan Bloemen, the imported Dutch-Canadian long-track speed skater, eked out just over 1000 new followers; and Justin Kripps, the phenomenal bobsled driver who tied with Germany for gold in the 2-man competition, gained fewer than 800 followers.
While medals do matter (those who won medals gained, on average, 8,000 followers while those who didn't gained fewer than 750), they clearly don't tell the whole story about social media attention. If a sport isn't popular, an Olympic athlete has very little chance to raise his or her profile.