With the sad news that Tragically Hip frontman Gord Downie is suffering from terminal brain cancer and embarking on his final tour, poignant tributes referring to the Kingston rockers as "Canada's Band" are now a common sight.
The Hip's legacy of quintessential Canadiana is second-to-none — their songs are peppered with wistful references to sleepy towns like Bobcaygeon and Thompson, and unforgettable stories like those of David Milgaard and Bill Barilko. But besides being known for a catalogue that is thoroughly steeped in the culture of this nation, does The Hip deserve a place among the pantheon of great Canadian musical acts? Has their music truly captured the attention of a broad swath of the Canadian public? After digging into historical Canadian album charts, and considering metrics like weeks at #1, longevity, and breadth of album success, the answer could not be more clear: The Tragically Hip are without a doubt Canada's most successful and well-loved band of the past 50 years.
Weeks at the Top
For this analysis, we looked at Billboard's top Canadian album charts, which are published weekly and go back to 1968. These charts measure the top selling albums in Canada — including all artists, not just Canadian ones — and include sales of physical albums, digital downloads, and more recently have started to include streaming as well. Arguably album sales is one of the most comprehensive and meaningful metrics of an artist's popularity, as it suggests a full appreciation of an artist's work by the listener.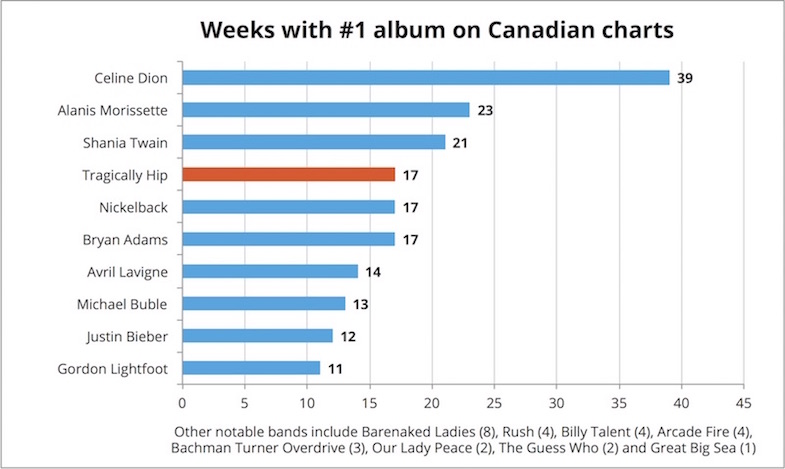 The first bona fide bands to make the list are The Hip and Nickelback, each enjoying 17 weeks at #1 on the Canadian charts over their careers (they are joined at 17 weeks by solo rocker Bryan Adams). After these two, it's a steep drop before any Canadian band ranks again; The Hip and Nickelback have been the only groups to enjoy the kind of commercial success it takes to consistently top the charts. The Barenaked Ladies check in at 8 weeks (due exclusively to their debut 1992 album Gordon), and remarkably, no other band, including stalwart rockers like Rush and The Guess Who, even cracks five weeks.
Though we're most interested in identifying the most important bands in Canadian music, it's worth noting the success of several solo artists when it comes to album sales. The undisputed queen of the Canadian charts is Celine Dion, whose multitude of top-selling albums — which span the gamut from original material to covers to greatest hits compilations, in both English and French — have spent a remarkable 39 weeks at #1. Solo pop stars Alanis Morissette and Shania Twain follow next with 23 and 21 weeks respectively, though their dominance at the top of the charts is due primarily to the success of a singular, career-defining album (Morissette's Jagged Little Pill dominated for a ridiculous 22 weeks in the mid-90s, while Twain's country-pop Up! spent almost three months at #1 in the early 2000s).
Breadth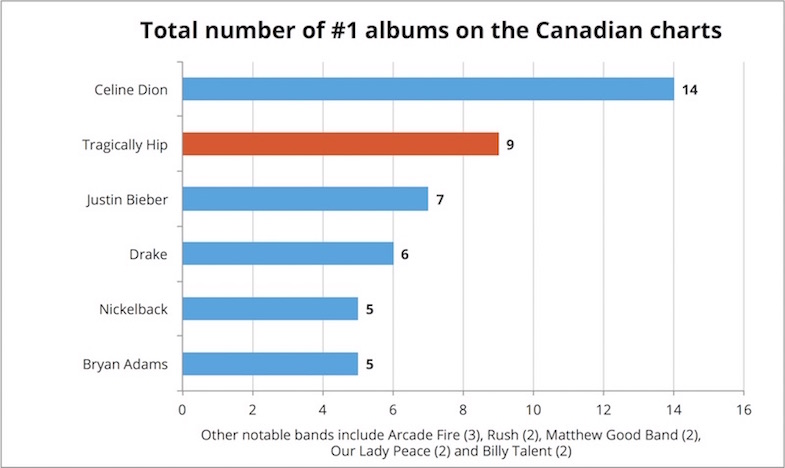 Counting the weeks at #1 is useful, but it doesn't tell the whole story, particularly since just one or two hit albums can make an artist's numbers look gaudy. So we next considered the number of an artist's albums that reached the top of the charts.
Again, nobody holds a candle to Celine Dion. She can sing from the phone book and it'll probably go #1. But it's arguably a much more impressive achievement for a rock band like the Hip to have topped the charts with an astounding nine albums (four more than any other band). Starting with their second album, Road Apples, which led for a single brief week in 1991, every subsequent Hip album through the 1990s spent at least a couple of weeks at #1, including classics Fully Completely (1992), Trouble at the Henhouse (1996) and Phantom Power (1998). While none of the Hip's albums dominated sales the way that Jagged Little Pill did for Alanis Morissette, the band's 1994 hit Day for Night did manage an impressive four weeks atop the charts. That's really impressive, given that they were competing directly against R.E.M.'s Monster and Boyz II Men's II, huge albums which were dominating the US charts at that time.
Longevity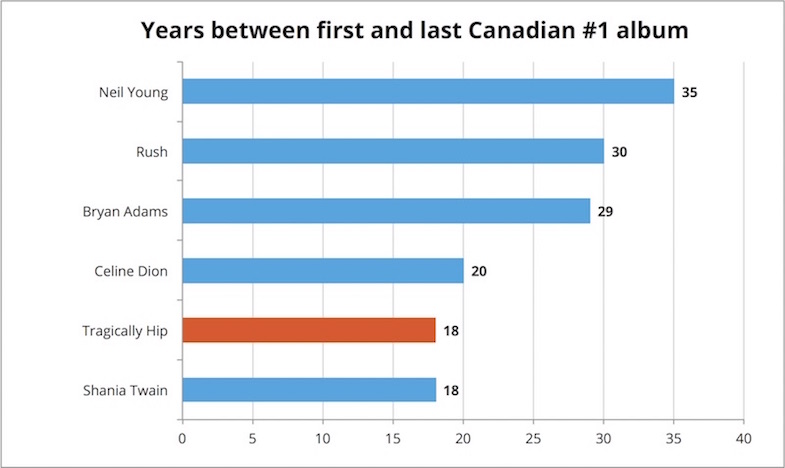 Here, we consider the time between an artist's first and last album to hit #1, which suggests how long the artist has managed to stay in the public's consciousness. Looking at the data in this way, we notice some remarkable outliers. Neil Young has had precisely two #1 albums in Canada: the 1971 masterpiece Harvest and 2007's Live at Massey Hall 1971. You'll notice that the latter album was released 36 years after it was recorded, which somewhat negates the argument for Neil Young's creative longevity. Nevertheless, it is a testament to Canada's love for the political rocker that his classic performances still sell almost four decades after being first performed. Ageless rockers Rush have also had exactly two #1 albums in Canada, Signals and Clockwork Angels, separated by a chasm of 30 years. The Tragically Hip, on the other hand, boast a chart-topping longevity of 18 years, and more importantly have densely filled that time with nine hit albums (their forthcoming record Man Machine Poem will likely extend these gaudy numbers).
No Band Touches The Hip in Canada
When considering all of these key metrics together — chart dominance, album breadth, longevity — it's clear that no other Canadian band even comes close. Bands like Nickelback, Rush and Arcade Fire have been quite successful within the country, and have in some cases achieved great success outside of it. But no matter how you slice the data, The Tragically Hip are Canada's most vital and well-loved band.
Methodology
Data is drawn from the Billboard Top Canadian Albums chart, published weekly since 1968. Data is accurate as of 6/15/2016. You may be wondering about where Drake is. As of the publication date, Drake has led the Canadian charts for a total of 10 weeks across six separate albums, and will likely rise sharply in the rankings over the coming years.
Don't miss our newest stories! Follow The 10 and 3 on Facebook or Twitter for the latest made-in-Canada maps and visualizations