UPDATE: Check out our 2018 ranking of the most miserable sports cities!
It may seem like a bit of a let down this year in the world of sports misery. Numerous epic streaks of futility have been washed away, leaving formerly hopeless fans with unfamiliar and uncomfortable feelings of giddiness and pride. Cleveland breathed a 52-year sigh of relief after prodigal son Lebron James made good on his promise to bring the city its first championship since 1964, beating the seemingly unstoppable Golden State Warriors in a thrilling 7-game final. The Chicago Cubs, who since the waning days of the Ottoman Empire had turned losing into an artform, finally dismantled the Curse of the Billy Goat in a heart-stopping 7-game World Series clash against the Indians. In Toronto, fans have emerged from a decades-long period of misery and failure with something to actually cheer for: a group of exciting and moderately successful teams in the Raptors, Blue Jays and Maple Leafs.
But don't fret, sports fans. There is still plenty of misery to go around. We just had to look a bit further this time. In years past, we focused on major North American sports cities with at least three teams in the big four leagues (baseball, basketball, football and hockey). However, this year, we've extended our gaze to include cities with two major franchises. And boy, we're glad we did, because there are some hurting fans in these smaller market towns who deserve our respect and pity for their unflinching loyalty.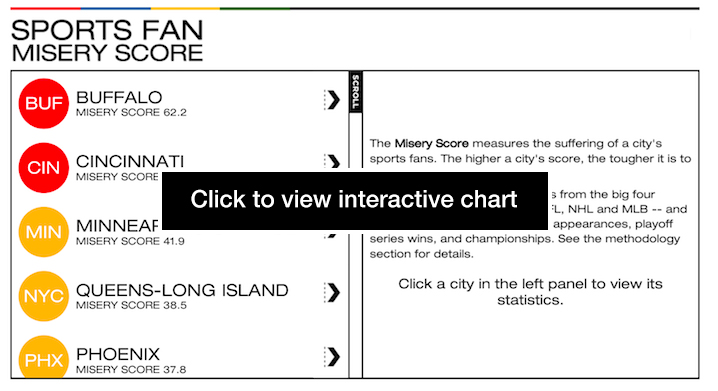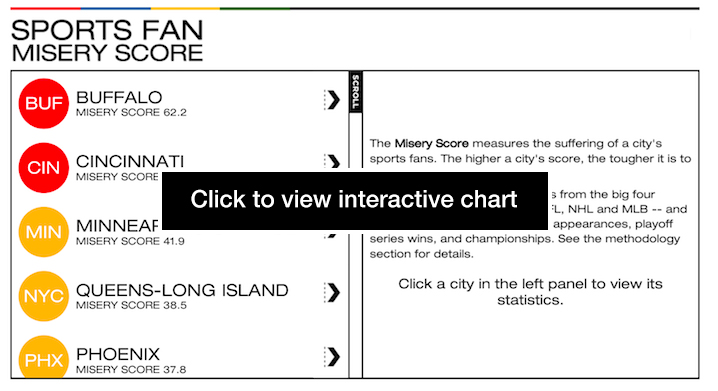 As in our previous rankings (2016, 2015), we weighed playoff appearances, playoff series wins, and championships when calculating a city's Misery Score. We also relied heavily on recent success, since there's no better way to forget a drought than with a lot of winning. See the Appendix for details on our scoring system and clustering choices.  
1. Buffalo
You thought being a sports fan in Cleveland used to be tough? Buffalo fans have never tasted the glory of an NFL or NHL championship, despite having had the Bills since 1960 and the Sabres since 1971. They also were home to the NBA's Buffalo Braves from 1970-1978, but that franchise quickly moved west, where it eventually turned into the Los Angeles Clippers (who still haven't won a championship). The Bills present a particularly painful lesson in futility. Appearing in four straight Super Bowl finals in the early 1990s, the team somehow managed to lose each one. While most of the losses were embarrassing blowouts (that 52-17 massacre in the 1992 season being particularly wrenching), Scott Norwood's missed field goal in the waning seconds of Super Bowl XXV forever imprinted Wide Right on the mind's of Buffalo sports fans, and inspired Ace Ventura's infamous "Laces Out" joke. It hasn't gotten much better lately, either. Since the year 2000, they've only had two winning seasons, and own the NFL's longest active playoff drought.  
The Sabres have been quite the sad-sack NHL franchise for the past decade, but actually had a reasonable run in the 1990s and early 2000s, culminating in a dramatic trip to the Stanley Cup Finals in 1999. With the series on the line against the Dallas Stars, the two exhausted clubs fought their way into triple overtime. Future Hall-of-Famer Brett Hull scored a controversial game-winning goal, with his toe dipping into goalie Dominik Hasek's crease before the puck entered the net (which was illegal at the time). With the blunt, stone-faced coach Lindy Ruff at the helm for 15 seasons, the Sabres have never recovered.
2. Cincinnati
It was a tight race to the bottom between Buffalo and Cincinnati. But memories of the Reds' World Series win in 1990 makes life as a sports fan in The Queen City slightly less miserable. Just slightly.
The Reds have been mostly terrible for the past 25 seasons, save for a small stretch in the early 2010s. Things have gotten so dire for the club that various studies have shown that the team's pitching staff last year was perhaps the worst of all time. It doesn't get much worse than that for a baseball club, unless of course you consider the team's longtime former owner, Marge Schott, known for her racist comments toward African-Americans, Asian-Americans and Jews, and open praise for Adolf Hitler. On the baseball front, her ever-present St. Bernards were known to frequently relieve themselves on the field of Riverfront Stadium, while her distaste for scouts most certainly hindered the the franchise's development into a more successful baseball club.
In football, the Bengals have never won a Super Bowl, and have subjected their fans to humiliating defeats in their past seven playoff games (that's 27 years without a playoff game win). In 2015, the team suffered the ultimate meltdown, committing two boneheaded penalties to give the Steelers a chip shot field goal for the win.
Cincinnati fans: we salute you.
3. Minneapolis-St. Paul
This year, the Twin Cities have the dubious distinction of being the most miserable among major sports cities (those with 3 or more teams), after teams from cities like Cleveland, Toronto and Houston broke major playoff droughts.
While this city's franchises are not necessarily the worst in their respective leagues, they are not particularly good, either. The Vikings, Timberwolves and Twins suffered through another season without making the playoffs, while the Wild, who have shown flashes of brilliance in the past several years, are nevertheless not in the discussion for a potential Stanley Cup. Case in point: for much of this past season, the Wild were playing like the presumptive Presidents' Trophy winners, but a late-season skid has their fans doubting whether they'll even make it past the first round of the playoffs. Minnesotans have to be wondering: is this as good as it gets?
4. Queens – Long Island
New York City's "little brother" teams — the Jets, Mets and Islanders, who share a historical fan base in Queens and Long Island — have actually given their supporters a little something to cheer about in recent years. The Mets have become a formidable club in the National League, with an ace pitching staff that includes Noah Syndergaard, Matt Harvey and Jacob deGrom. The New York Islanders are resurgent under the leadership of superstar captain John Tavares, winning their first playoff series (in 2015) in over two decades, though they look to be missing out on the postseason this year. The Jets, in the post-Rex Ryan era, had a breakout 2015, but followed it up with a humdrum 2016.
But despite some signs of life at Shea Stadium and the Barclays Center, these fans have nevertheless suffered through a 30-year championship drought, the most of any major sports city. So when it comes to misery, New York's fiercely proud little brother fans have it in spades.
5. Atlanta
For a second straight year, Atlanta just slips into our list of the top five most miserable sports cities. But things could have been much different this year. Just ask any Atlanta football fan about Super Bowl LI and you'll immediately see a pained and heartbroken expression on their face. During that championship game, the Falcons were running up the score against the New England Patriots, leading by an enormous 25 point margin in the 3rd quarter, yet somehow managed to fritter away their lead to lose 34-28 in overtime. It was the team's best opportunity to win its first Super Bowl title, and one that will not be soon forgotten by its hardy fan base.
In baseball, the Braves used to be something of a model organization, winning their division an eye-popping 14 seasons in a row through 2005. But that gaudy streak produced only a single World Series title for the Big Peach, which has to gnaw on even the most faithful Braves fans. With fewer than 70 games won in each of the last two seasons, the Braves have a long rebuild ahead. Hey, at least they have a beautiful new stadium, right?
As for the Hawks, they can be summed up with an emphatic "Meh". They've fielded a pretty average team over the past decade, and managed to waste a promising 60-win season in 2014-15 by being summarily swept by the Cavaliers in the Conference Finals.
Honorable Mention: San Diego
Finally, a special shout-out to San Diego, who didn't even qualify for our rankings this year because they only have one team remaining in their city. After the Chargers picked up and left for LA, San Diegans have only the Padres to root for, which is just sad. Denizens of the city haven't been able to celebrate a championship since 1963, when the Chargers won the AFL championship.
Which city do you think deserves to be in the top 5? Follow us on Facebook or Twitter and join the discussion.
Methodology Notes
Cities with Multiple Teams
Several large cities in North America have more than one professional team in the same league. To handle these cases, we divided fans up into natural allegiances, and calculated separate misery scores for each set of fans. Chicago is an easy one: one set of fans supports the Cubs (Chicago A), while the other supports the White Sox (Chicago B). Los Angeles is similar, with those supporting the Clippers (Los Angeles A) and those supporting the Lakers (Los Angeles B). 
The San Francisco Bay Area has two football teams and two baseball teams (and a single basketball and hockey team). Those in the East Bay typically back the Raiders and Athletics (San Francisco Bay Area A), and those in San Francisco and the peninsula back the 49ers and Giants (San Francisco Bay Area B). 
Then, there is the complexity of New York City. There are of course many exceptions to the clustering that we selected, but generally speaking, we have the "big brother" and "little brother" teams of New York. The Rangers and Knicks (who both play in Madison Square Gardens), along with the Yankees and Giants, have a somewhat consistent fan base. Similarly, the Jets and Mets (who shared Shea Stadium in Queens), along with the New York Islanders (who are originally from neighboring Long Island), tend to share fans based on geography and a common history (Queens-Long Island). We omitted from our analysis the New Jersey Devils, as well as the Brooklyn Nets, who may still be finding a consistent fan base after moving from New Jersey.
Finally, we note that several NFL franchises are on the move. San Diego lost its Chargers to Los Angeles this year, so San Diego is not included in the rankings (as it has only a single franchise). St. Louis lost its Rams last year, also to Los Angeles; we decided not to include the Rams in the Los Angeles calculations because it is such a new franchise to the city. The Raiders have also decided to move homes, from Oakland to Las Vegas. However, the final move is not scheduled until 2019, so the frenetic Raider Nation can still cherish their heroes for a few more years.
The Misery Score Explained
We first compute a misery score for each team, as follows: a team gets a demerit point for each year since (i) it last made the playoffs, (ii) it last won a playoff series (which doesn't include MLB play-in game wins), and (iii) it last won a championship. We cap each of the three above point values at 30, because the average fan's age in the major sports is approximately between 42 and 43, and the age of 12 or 13 is the general age of enlightenment when fans start to really understand sports (and the misery that comes with losing). These points are added together, which gives each team a number of points between 0 (if the team won a championship last season) and 90 (if the team hasn't made the playoffs in the past 30 years); we then normalize these values onto the [0,100] scale, to get a team-level misery score.
Finally, for each city, we take a simple average of its component teams' misery scores, to get an overall city-level misery score. For ease of interpretability, we bucket these city scores into 4 categories: green (0-15), yellow (15-30), orange (30-45) and red (45+). Green means that you only need to look back, on average, about 5 years to see a lot of success (Boston); yellow look back 10 years (Tampa Bay), orange look back 15 years (Washington, Philadelphia and Phoenix), and red over 15 years (Buffalo and Cincinnati).
Note that we have only chosen to display NFL champions since the first Super Bowl (in 1967). Teams with their last win prior to that (ex. Detroit) are marked as "NA" in our graphic.