Canada's multicultural mosaic has produced a dazzling array of immigrant enclaves throughout the country. You've certainly heard of Vancouver's Chinatown, guarded by the towering Millenium Gate on Pender Street and home to Canada's largest Chinese population. And Montreal could not truly be La Belle Ville without its Little Italy, centred around the grand, fresco-laden Church of the Madonna della Difesa and the bustling Jean-Talon public market.
But how about Toronto's vibrant Little Jamaica, known for its jerk chicken street BBQs and famous barbershops? Or Laval's growing Little Lebanon, which is increasingly drawing Arabic-speaking immigrants away from St. Laurent in neighbouring Montreal?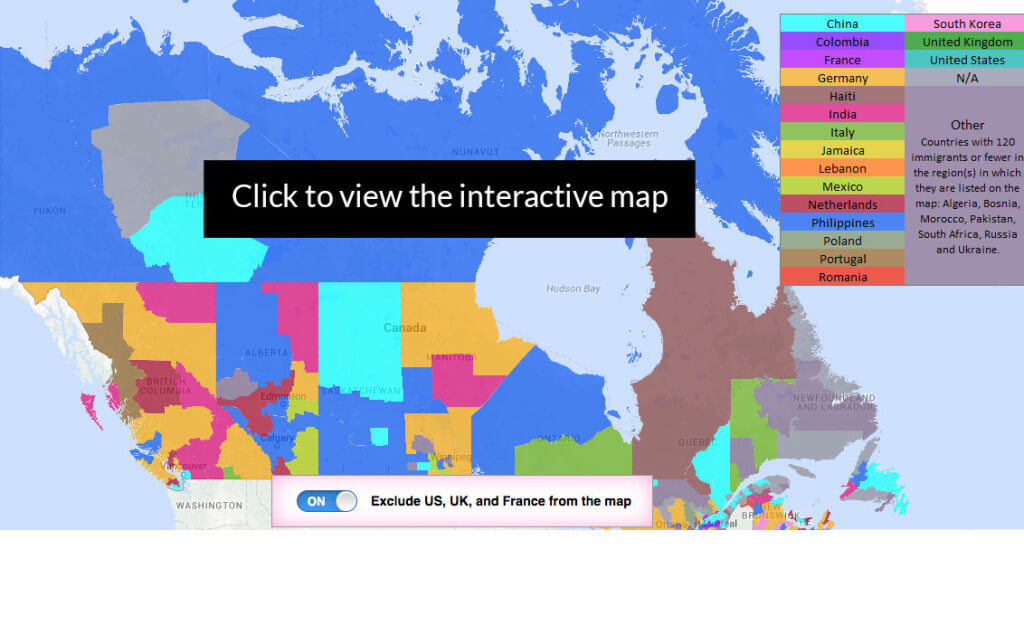 To visualize Canada's remarkable immigrant diversity, we put together an interactive map that displays which immigrant group is most populous in different parts of the country. We divided the country into census divisions, and used data from the 2011 National Household Survey to find the most common country of origin in each region.
In our previous language map, we looked at the dominant tongues spoken throughout the country, but that map told only some of the astonishing story of Canadian multiculturalism. For instance, the Spanish-speaking regions in Quebec hide the fascinating diversity of Central and South American arrivals in that province, while French-speaking regions can include immigrants from former French colonies and mandates like Haiti and Lebanon in addition to native Quebecois. English speaking regions hide the rich tapestry of immigrants from the West Indies, the US and UK. Finally, northern regions dominated by speakers of Aboriginal languages are also home to an array of intrepid immigrants from some rather surprising places.
We provide two versions of the map: one that excludes immigrants from the US, UK and France (countries which are among the highest sources of immigrants to Canada, but whose cultural and linguistic similarities to Canada make them somewhat less intriguing to study here), and one that includes these groups.
There are many interesting stories to tell in this map, but below we highlight a few of the most fascinating.
Montreal's Growing Diversity
While Toronto usually grabs the headlines as Canada's most diverse city, Montreal is fast becoming a remarkably cosmopolitan place itself, with a third of the city's population born outside the country. Within the city limits, immigrants from Italy form the largest group of foreign-born Montrealers. Add in another 200,000 residents of Greater Montreal with Italian ancestry, and you get Canada's second biggest Italian community (only Toronto's is larger). Centred around a beautiful stretch of St. Laurent Boulevard, Little Italy is famous for its quaint shopping, remarkable variety of authentic Italian cuisine, and the nearby Jean-Talon farmer's market. Recently, Montreal's growing pains bubbled to the surface when Quebec's notoriously zealous "language police" demanded that restaurateurs provide French translations for menu items like pasta and calamari (but not, it should be noted, pizza). After a public outcry, the request was quickly rescinded, but the incident revealed the delicate balance that Quebec faces between maintaining its French heritage while still welcoming a diverse group of newcomers.
On the other hand, several of Montreal's largest immigrant groups do come from former French colonies and mandates, so adapting to local language customs is not as formidable a challenge. Though just barely outnumbered by Italians in the city of Montreal, Haitian immigrants form the dominant immigrant group in several neighboring towns including Terrebonne and Repentigny. Haitian immigration to Quebec has skyrocketed in the past 10 years, particularly after the devastating 2010 earthquake which sent thousands of Haitians to search for new homes outside of their native land. The tenure of journalist Michaëlle Jean as Canada's Governor General further enhanced the profile of this growing, vibrant community.
Montreal's Lebanese community — much of which is French-speaking — has started to outgrow its former stronghold in the St. Laurent neighborhood. Instead, families are starting to move north to Laval, where Lebanese Canadians already form the largest immigrant group. With turmoil raging in the Middle East, newcomers from other Arab nations like Syria and Egypt have followed their lead and settled in Laval.
Finally, as we saw in the language map, Spanish speakers have flooded into Greater Montreal and other parts of southern Quebec. It may come as a surprise, however, that the dominant Spanish-speaking immigrant group in the province is not from Mexico (as in most of the rest of Canada), but rather from Colombia. The cities of Drummondville, Sherbrooke, Trois Rivières and Quebec City all boast sizable Colombian populations, and the provincial government continues to seek out skilled Colombian immigrants to make their way to Quebec.
Toronto: The Most Multicultural City in the World?
The city of Toronto is without a doubt Canada's crown jewel of multiculturalism. Residents speak over 140 languages and dialects, and remarkably, over half of the population is foreign born. Rivaling London and New York for the title of most diverse city in the world, Toronto features a dizzying array of well-known ethnic enclaves like Portugal Village, Greektown, Little India, Little Italy, and huge communities of Jewish, Filipino, Sri Lankan and West Indian residents. But by far the biggest immigrant group comes from China, with over 130K Chinese immigrants in the city itself and another 65K to the north in York region. Across the entire Toronto metropolitan region, almost 600K residents identify as being of Chinese origin.
To the east of Toronto in Durham Region, the largest group of immigrants (besides those from the UK) come from Jamaica. Although the Eglinton West neighborhood in Toronto has come to be known as Little Jamaica (along with additional West Indies influence from Barbadian, Guyanese and Trinidadian residents), towns like Pickering, Ajax and Oshawa in Durham Region feature vibrant Jamaican communities that maintain strong bonds with their cultural heritage.
To the west of Toronto, in suburban cities like Mississauga and especially Brampton, immigrants from India have settled in extraordinary numbers (over 150K are foreign born). Over two-thirds of the region's population is classified as a visible minority, and the influx of new arrivals has happened so quickly that the region is going through something of an identity crisis. Everything from city planning, healthcare and even policing is undergoing a sea change.
Looking further to the south and west into more rural areas of Ontario, older European immigrant communities still thrive in places like Brantford (Polish), Huron County (Dutch), Kitchener-Waterloo (Portuguese and German) and the Niagara Region (Italian).
The Rise of the Philippines
Although the Philippines is just the third largest country of origin for immigrants from Asia (behind India and China), intrepid Filipino arrivals – who now number almost half a million – have spread all throughout the far reaches of Canada, developing sizable communities in a remarkably diverse set of places.
Winnipeg houses the oldest significant Filipino community in the country. The government of Manitoba continues to recruit highly-skilled Filipino immigrants, signing an agreement with Manila in 2008 to streamline the immigration process while remaining one of the only provinces in the country to offer a family stream in the provincial nominee program (which doesn't require new arrivals to have an existing job offer before settling there). Filipinos have also not hesitated to venture into Manitoba's more rural areas, enticed by the province's aggressive recruitment of foreign nurses and other initiatives that ensure highly skilled arrivals can continue to work in their own profession rather than through the live-in caregiver program that is common in other provinces.
Filipino immigrants also dominate the other major cities in the Prairies, including Calgary, Edmonton, Saskatoon and Regina. But perhaps the most surprising destination for a group whose homeland is decidedly tropical, is Canada's Far North. With sizable communities in Whitehorse and Yellowknife (as well as pockets in more remote Arctic destinations), Filipinos have been drawn by the booming service industry in the region, which has allowed them to send substantial remittances back home to the Philippines.
The Big 3: The US, UK and France
It comes as no surprise that some of the largest cohorts of immigrants to Canada come from countries with which Canada shares significant cultural, linguistic and political ties. Over half a million Canadian residents were born in the UK, and these British arrivals have spread in sizable numbers throughout most of the country, except perhaps in Quebec. In that province, immigrants from France — who number over 90K — reign supreme, forming a plurality of immigrants in most of Quebec except in Greater Montreal and other regions close to the American border. Besides the familiar language, French citizens are increasingly drawn by the relatively friendly business environment and rich cultural life of La Belle Province.
Finally, there are over a quarter of a million residents of Canada born in the United States, and like their British counterparts, they too have settled in sizable numbers throughout most of the English-speaking provinces. However, their presence is particularly notable in regions bordering the northeastern states of Vermont, New Hampshire and Maine. Wooed by Canada's strong economy, national healthcare system and perception as a peaceful and idyllic destination, Americans continue to stream north at a steady (if unspectacular) rate of several thousand per year.
Which regions are you most surprised by? Follow us on Facebook or Twitter and join the discussion.