As part of Canada's upcoming 150th birthday celebrations, Parks Canada announced free admission to all of the country's national parks and historic sites throughout 2017. As anyone who's visited Banff or Jasper during peak season knows all too well, the crowds of eager tourists exploring the Rockies' splendour grows more intimidating each year. The prospect of managing 2017's anticipated hordes of visitors to these national gems is therefore worrying, particularly for those at the helm of Parks Canada.
But in reality, most national parks in Canada remain severely underutilized, whether due to their remoteness — like the Northwest Territory's Aulavik National Park, 600 km north of the Arctic Circle — or simple low-key obscurity, like the New Brunswick camper's paradise of Kouchibouguac.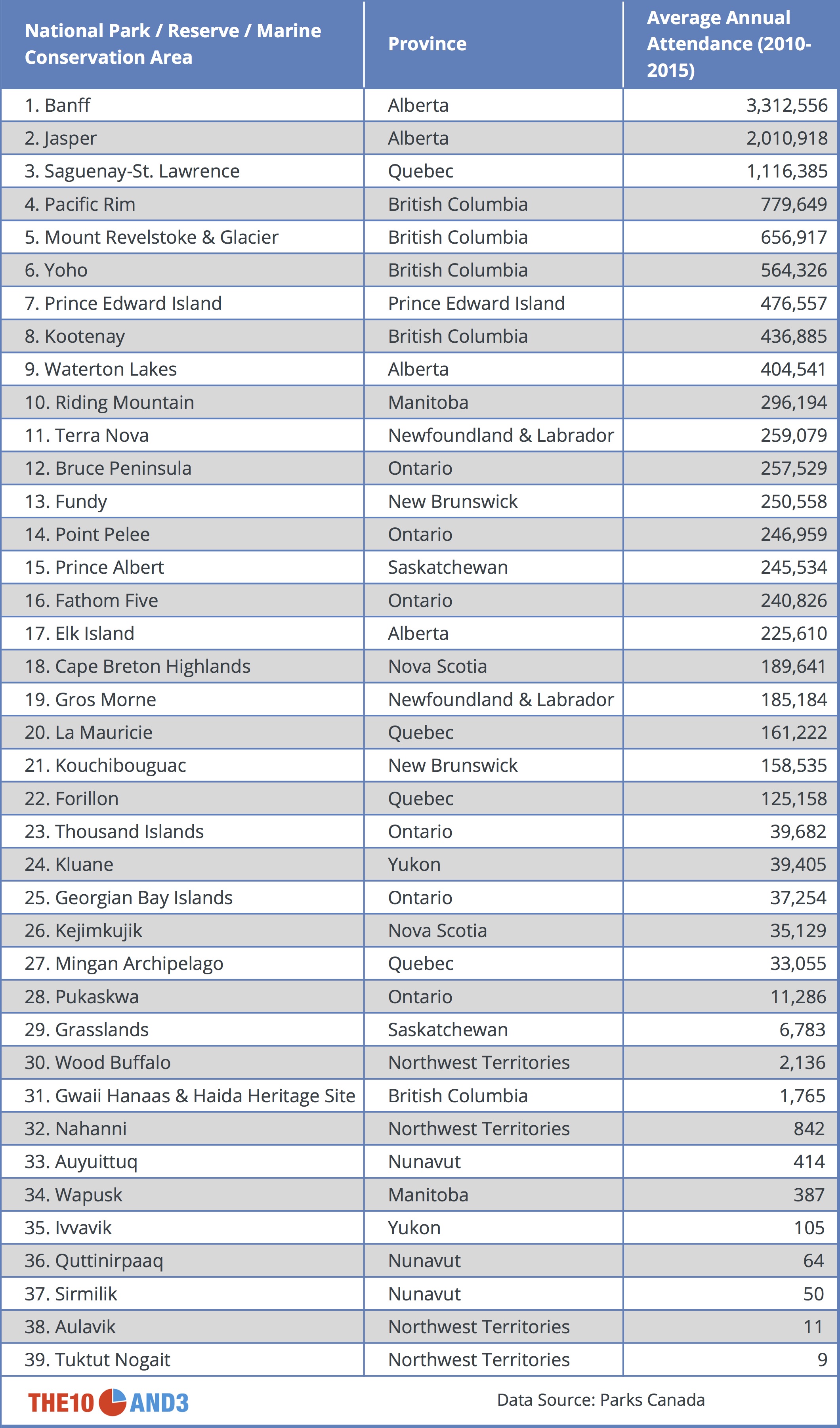 Only a handful of Canada's most well-known national parks and marine reserves have the kind of overwhelming attendance numbers that keep park rangers up at night. Banff, with over three million visitors per year, is both Canada's oldest national park (established in 1885), and its most popular, containing gems like Lake Louise and the Cave and Basin thermal springs. Just to the north, along the Canadian Rockies, lies Jasper National Park, which attracts approximately two million visitors per year to sites like the Columbia Icefield glaciers and Pyramid Mountain. Lest these parks are too overrun, fear not: just to the west is Yoho National Park, while further south is Kootenay National Park, each equally spectacular to their more famous Rocky Mountain neighbors.
On the other end of the spectrum are Canada's most sparsely attended national parks, which quite predictably are located in some of the country's harshest and most remote environments. Sirmilik, on the northern tip of Nunavut's Baffin Island, and Quttinirpaaq, hundreds of kilometres to the north on Ellesmere Island, register just a few dozen hearty visitors per year to their mostly barren polar landscapes. Tuktut Nogait National Park, at the northern end of Northwest Territories, typically welcomes fewer than 10 brave souls, though those who do visit may witness the spectacular herds of Bluenose West caribou migrating to their calving grounds within the park.
Top 20 Historic Sites by Annual Average Attendance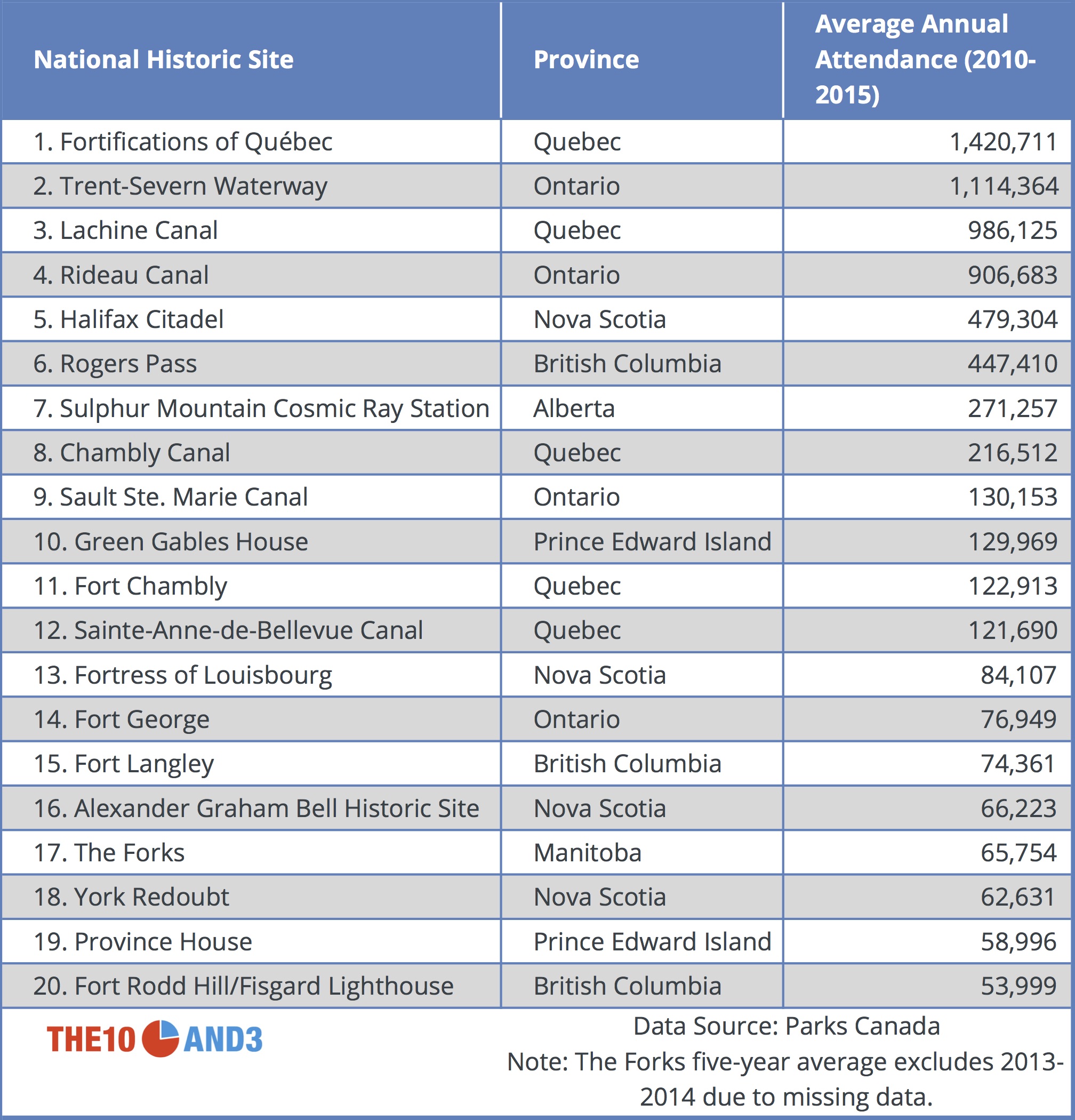 Besides the giant expanses of the country's national parks, Parks Canada also maintains an extensive network of national historic sites, which include everything from forts and mines, to trails, canals and historic houses. The most popular among them is Quebec City's walled fortifications, attracting 1.5 million visits per year. Other well-attended sites include Halifax's historic Citadel (500,000 visitors/year), Ottawa's winter-skating paradise Rideau Canal (approx. 900,000 visitors/year), British Columbia's breathtaking Rogers Pass (over 400,000 visitors/year) and Prince Edward Island's literary landmark the Green Gables House (over 100,000 visitors/year).
Don't miss our newest stories! Follow The 10 and 3 on Facebook or Twitter for the best made-in-Canada visualizations and data stories.